Emily Casriel, Head of Editorial Partnerships and special projects for BBC World Service Group, gives a detailed account of her project Take 10 animation in a blog post published a month ago.  
This project involves MA student animators from the Animation Department at the University of the West of England (UWE), who were given a great challenge: to animate 10 one-minute audio clips, inspired by 10 inspirational stories  from BBC World Service.
Here is how  
Student animators get creative with one minute World Service stories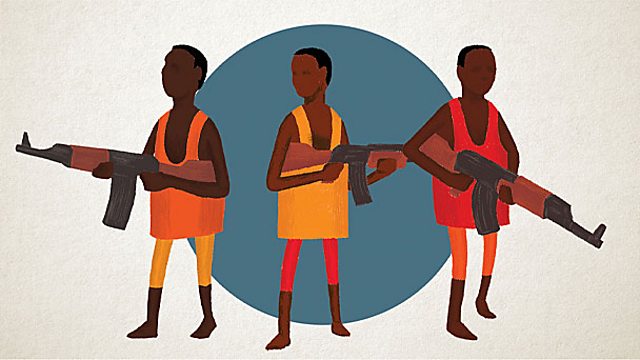 Testimony of former child soldier Deng Adut, animated by Laura-Beth Cowley and Carwyn David.
Take the harrowing tale of being hauled in front of Islamic student activists in Iran, the search for an elusive bird in East Africa or the first-person experience of a child soldier. Hack each complex and rich story to precisely one minute. Now present those 60-second tales to a bunch of student animators and ask them to draw upon their wildest creative imagination to craft films that are so full of personality that they will engage people across the world. 
When I visited the Animation Department at the University of the West of England UWE to meet its MA students, I was presenting them with a demanding challenge. As I played the one-minute audio clips, drawn from a range of BBC World Service output, the animators listened intently with furrowed brows and occasional smiles.  
The students were already visualising how they could bring to life an attractive story while plotting how they could wriggle out of being assigned the toughest stories. Who would be tasked with imagining the story of a corrosive Soviet town and who would have fun bringing to life the wine-loving bear?
I first developed the partnership with the University of West of England (UWE) two years ago, when it was already clear that animating audio was an effective way to engage audiences which might not already be consuming BBC News content. Bethan Jinkinson from BBC World Service Digital was excited to collaborate on this project because of its potential to showcase and share the richness of our audio offer.
Research with the BBC's Global Minds panel indicated that audiences liked snacking on content. The combination of factual content with a creative treatment seems to be attractive, perhaps because it engages both sides of our brain. Sharing something intelligent, yet still accessible, makes people look informed in front of their peers, which in turn drives viral success.
The BBC is increasingly experimenting with animated audio – from Omar's Journey which depicts the journey of a teenage refugee in the Jungle in Calais based upon his own drawings, to The Today Programme animating the news. When I used to run the ideas discussion show The Forum I even experimented by personally animating its 60 second idea.  
I sought out UWE in Bristol as it is renowned for its creative flair and enjoys links to some of the most successful animation companies in the world, such as the local Aardman studios, home of Wallace and Gromit. Back in 2014, we collaborated with Chris Webster, the course leader, and his second year BA students to produce an animation based on a BBC World Service Outlook interview about Antarctica, saunas and naked running. Truly.
There were many exchanges over the tiniest of details from the texture of the sky (richer and more artistic) to permissible nudity (bottoms acceptable, full frontal not). I learned that the students needed to be encouraged to fly free of a too literal interpretation of the spoken word, while still keeping to the spirit of the message. This knowledge was useful when I briefed the graduate students this year for our more fully fledged partnership.   
My follow-up visit to the MA students was exciting if a little daunting for all of us. The students, who had been attracted to the course from across the world – from Vietnam to Venezuela – were now on the cusp of exposing their creative imagination to an external client for the very first time, awaiting judgement on the first 'draft' of their one-minute masterpieces.
From the moment the first film was shown on the screen, I could see that the MA students were in a different league to their BA counterparts. Yet I was a little confused by seeing a set of wooden films with little movement. The students patiently explained to me that the animatic wasn't the finished film, merely a moving sketch book.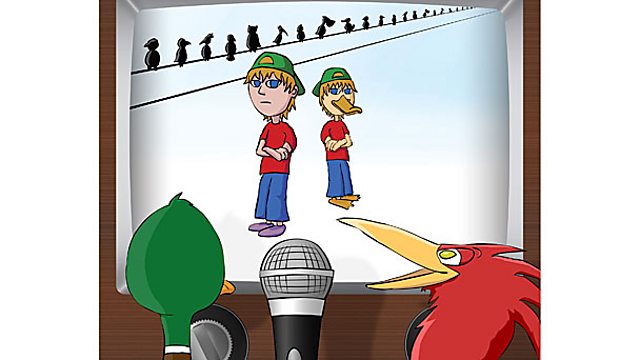 They had all put tremendous energy into researching the world behind their one minute clips.   Michail Gkialas Fikaris had watched numerous YouTube videos of his beatboxing subject (above) to understand not only the artist but also the beatboxing culture.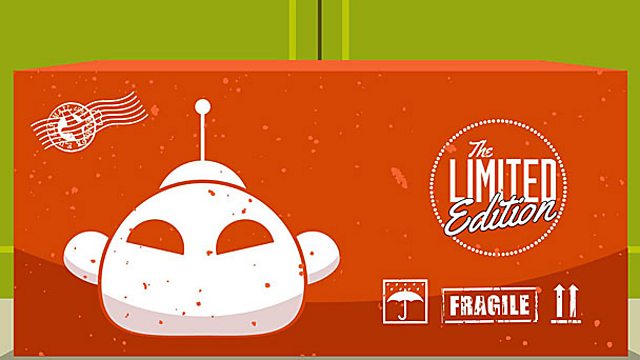 Linh Nguyen had drawn upon a Japanese vintage aesthetic to animate the story of a robot (above) which was born the moment its mother unwrapped the packaging. Not content with the audio narrative that I had presented to her, she had inserted an angry unicorn with a murderous laser beam as a visual sub plot. This burst of creativity led to a discussion about the importance of a visual narrative that would complement rather than compete with the audio. Linh's finished animation sticks a little more faithfully to the audio clip, though it is still full of visual jokes reflecting her subversive originality.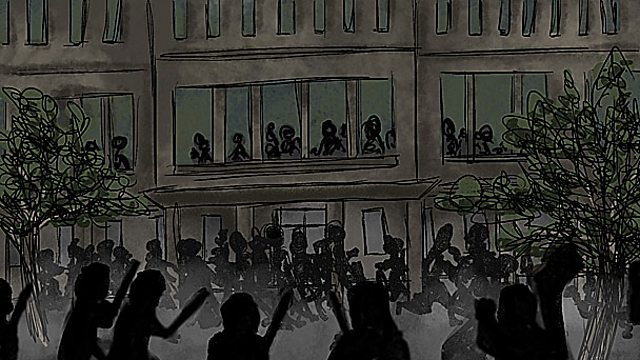 I was also impressed with how Nagore Rementeria Muriel used stark black and white graphic images and negative space to create a tense atmosphere in her depiction of fear in revolutionary Iran (above). She built a 3D model of an Iranian man to rotate for the animation, and scribbled intimidating anonymous figures.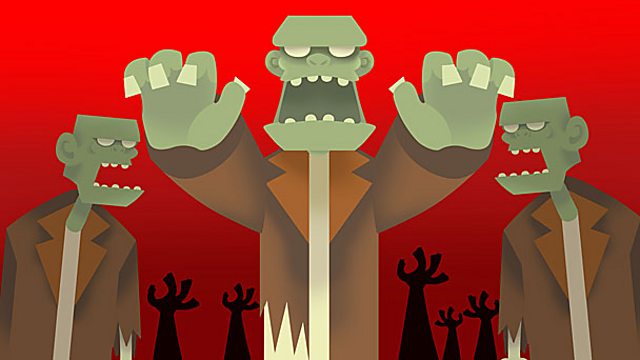 Hannah Stevens had enlisted the help of her six year old cousin to imagine the two headed purple mutants of a fabled Soviet town, and then drew on World War Two propaganda films to create a cinematic atmosphere (above).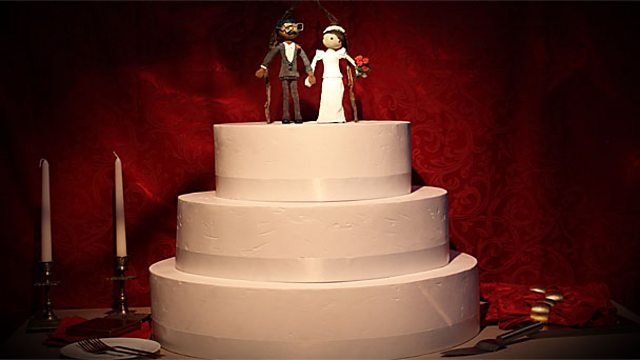 And it was fantastic to see some stop motion animation in the mix with Sasha Lawrence's story of the first legal inter-racial marriage in South Africa. Sasha took plywood and plaster to create a three tiered wedding cake (above) and found a 1980s Jet Magazine picture of the couple online to inspire her creation of the bride and groom puppets. 
At the end of our session together, tutor Chris Webster told his students that one of the most valuable lessons of this partnership was to understand the mindset of a client and the likelihood that they wouldn't understand the animating process. He is committed to helping his students not only develop their own voice – all of the animations are highly individual – but also equip them with skills that will enable them to succeed in the world of deadlines and client demands. 
I am excited to share these jewels with our worldwide audience by publishing them on the BBC website, broadcasting them on BBC World News and seeing reactions as we share these films on a whole range of social media platforms. I hope that people around the world will appreciate the thought and inventiveness that has gone into these richly layered treats and feel tempted to find out more.       
The animations are available on the BBC News website, BBC World News and across social media. 
Filed under: 3►STYLE, 5►LEARN MORE FROM:, ■ ANIMATE, ■ Animations, ■ Communicate, ■ Creativity, ■ How to Tell a Story, ■ Movies, ■ The Path of Metaphor, ■ Thinking Space, ►META PHORS▼